Engagement Organization After the marriage proposal, your families met, asking for a girl took place and it was time for the promise - engagement ceremony. This process, which probably causes butterflies in your stomach, can sometimes be confusing due to our traditions. In this article, we will tell you everything you need to know about the promise - engagement ceremony so that nothing stresses you on these beautiful days and everything is to your heart and wonderful.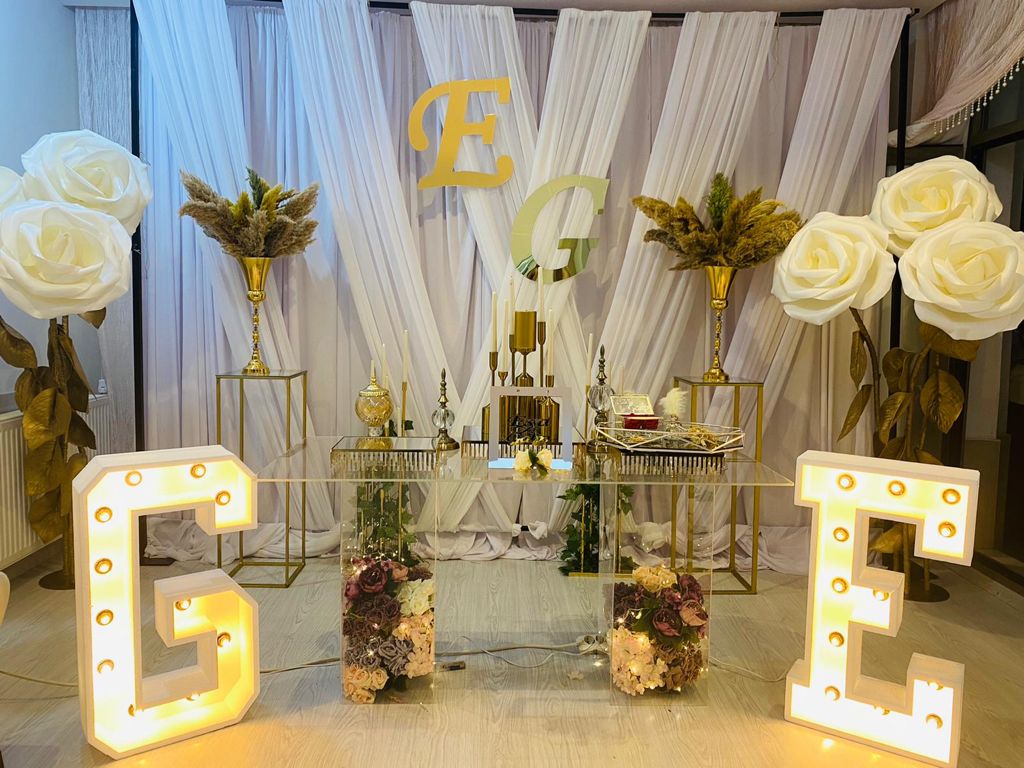 Engagement Organization Promise and Engagement Together?
According to tradition asking for a girlAlthough promise and engagement are all separate ceremonies, in recent years, sometimes due to the families being in different cities, sometimes in order not to cause too much trouble to the families, promise and engagement can be held together, even asking for a girl, promise and engagement can be held together. Before starting the preparations for the organization, you need to decide whether the promise and engagement will be held separately or both together. On the other hand, we will explain what needs to be done separately for the promise and engagement.
Engagement Organization Promise Flower and Promise Chocolate
The promise flower and promise chocolate are bought by the groom and he carries them in his hand on the way to the promise. When his future wife opens the door, he gently hands them to her. Although red roses, the symbol of love, are usually preferred as a promise flower, an elegant promise flower can also be prepared from another type of live flower that the bride-to-be likes. The promise chocolate is usually prepared in a silver tray or gondola. Of course, the promise chocolate should also look very elegant. It can be decorated with artificial flowers, tulles and ribbons.
Promise rings are actually a symbol of the officialization of your union between families. Although the man's side buys the promise rings, it is best to make this choice together with your future spouse so that you have a common taste. During the promise ceremony, it is placed on your fingers with a red ribbon in the center by the family elder who has made a speech beforehand, and when the ribbon is cut, your promise is cut.
Promise Tray - Engagement Organization
The promise tray where the promise rings will be brought also needs to be taken care of and visually elegant. Promise trays were usually silver in the past, but in recent years, we often see wooden models. The choice is up to you, the important thing is the aesthetic appearance of the tray that will be at the focal point before the promise is cut. You can use live or artificial flowers for decoration. Don't forget to add a stylish pair of scissors with your rings in the box or on the ring pillow.
Engagement Table - Engagement Organization
Whether your engagement is at home or in an outdoor venue, it will be the most striking part of the venue. If it is outside, this table where the bride and groom will sit should have high showy chairs, a stylish tablecloth, table flowers and a nice table setting. In addition, various decorations can be used on the table with balloons or in the background of the table.
If the engagement is at home, it means that all your guests will benefit from this table. In order not to be negatively affected by the crowd at home engagements, making an open buffet is a rational solution. You can place your delicious and powerful treats (cupcakes, macarons, chocolate covered candies, canapes, etc.) on a stylish tablecloth, put your engagement cake in the middle, and create an aesthetic table setting using flowers or candles. In home engagements, giant balloons and decorations that can be hung on the wall or curtain for the background are often used to make the engagement table look more elegant. You can find plenty of such decorations in places that sell party supplies.
Engagement Organization and Engagement Outfit
The engagement dress is one of the issues that leave the bride-to-be in the most indecision. After all, even if it is not a wedding dress, it is a dress of close importance. If you are going to have a home engagement, a short dress can make you more comfortable, but in an outdoor venue, a long dress, even with a tail, will be more harmonious for the meaning and importance of the day. In terms of color, we can say that light colors such as pink, blue, lilac fit the engagement concept more than dark colors. The model is completely up to your taste, but remember: The most important issue is that your dress suits you and you feel comfortable in it. Finally, don't forget to choose a shoe that is as comfortable as it is stylish in order not to be miserable later in the night.