The care you show in choosing a wedding dress should also be shown when choosing and buying the accessories you will use with your wedding dress. (Especially when choosing bridal shoes...) Otherwise, on your wedding day when you will stand and dance for a long time, a shoe that bothers you will spoil your pleasure. So, do you know how the bridal shoes you will wear under your wedding dress should be, what should be considered when choosing? If you haven't thought about this issue yet, don't worry. In order to avoid a mishap on your wedding day, we will talk in detail about what you should pay attention to when choosing your bridal shoes and what kind of bridal shoes you should choose according to the wedding venue and ground. If you want, let's even decide together what kind of bridal shoes you should choose. Of course, we will not stop there! If you want to buy your bridal shoes, which can sometimes play a role in your wedding photos even more than you, both stylish, comfortable and at a more affordable price, the details we are about to share can be very useful for you. Here is the answer to the question of how to choose bridal shoes with all the details...
What to Consider When Choosing Bridal Shoes?
There are several factors to consider when choosing bridal shoes. We will touch on them one by one so that you can get clearer and not get confused. Let's start if you want.
Choose Your Shoes According to the Wedding Venue and Ground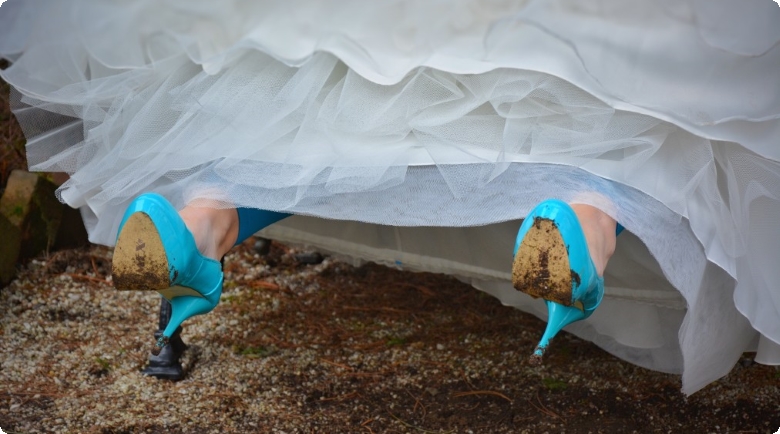 On your wedding day, you will probably feel like you are in a dream without your feet on the ground. While your mood is like this, it is important that you choose your shoes according to the floor of your wedding venue so that your feet are firm and comfortable on the ground in reality.
Especially if you are planning to have an outdoor wedding; you should buy a bridal shoe that you can walk comfortably on the lawn and whose heels are not embedded in the ground. For example, choosing a spike-heeled bridal shoe for a countryside wedding can be a complete madness. Instead, open-front, thick and short-heeled shoes for a countryside wedding, bridal sandals or ballet-style flat-heeled shoes for a beach wedding will be much more suitable. For ballroom or hotel weddings, you need to make sure that your shoes do not slip on the floor.
Your Shoes Should Match Your Wedding Dress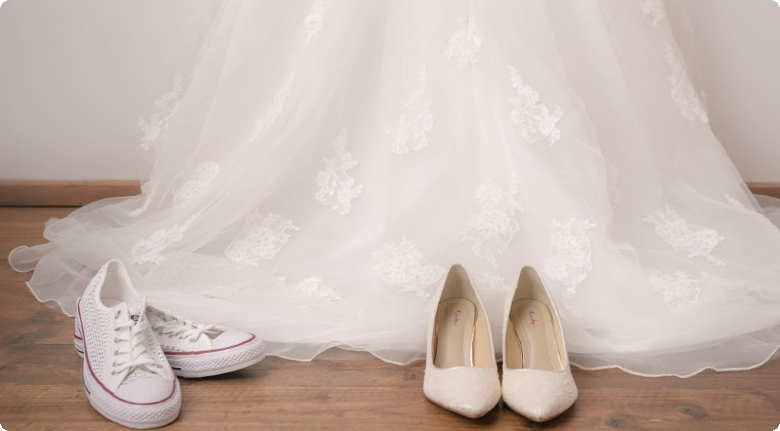 There are many different and beautiful shoe options that brides-to-be will fall in love with. But the shoes you choose (as with your other accessory choices) should not overshadow your wedding dress. Therefore, before choosing your bridal shoes, you should make sure that they match your wedding dress. (Yes, you did not hear wrong. From the cut to the model, from the fabric to the ornament details...)
Consider the Model of Your Wedding Dress
If your wedding dress is an A-line cut that appeals to a classic style, the shoe models you will prefer may be heeled. You can be both comfortable and very stylish with a heel, and it is a very stylish shoe style.
If you are planning to wear a wedding dress with a more flashy, puffy skirt, princess cut model, bridal shoes with stones can blow your mind.
If your wedding dress is already sufficiently stony and embroidered, a simple stilletto will be the right alternative for you. For lace wedding dresses, a shoe with lace details on the trim can be a nice option.
You can also choose bridal shoes in different colors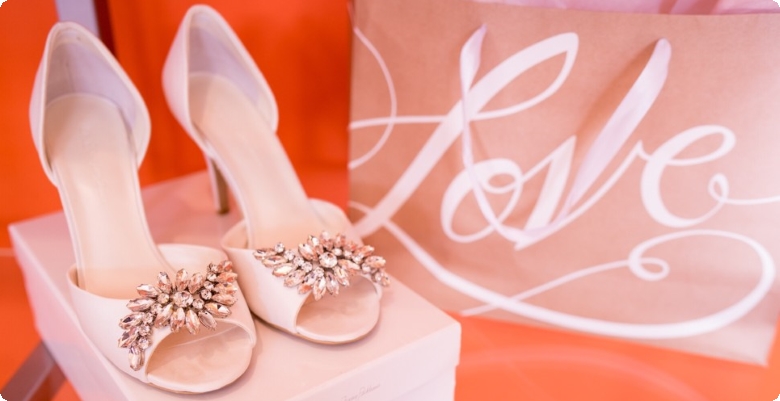 Brides-to-be generally prefer white or off-white or cream-colored shoes according to the color of their wedding dresses when buying bridal shoes. If you want to wear shoes in a different color tone under your wedding dress, you can choose a dominant color tone in your bridal flower. Especially the colorful shoes you will prefer with asymmetrical cut wedding dresses that appeal to the modern style look nice. But of course, we also have readers among us who wonder how to choose a comfortable bridal shoes. Would we ever forget you? Let's touch on that subject right away.
You Should Make Sure Your Bridal Shoes Are Comfortable
The heel height and comfort of your bridal shoes are important for you to feel comfortable on your wedding day. When purchasing your bridal shoes, you should make sure that you choose a shoe that does not squeeze or hurt your feet.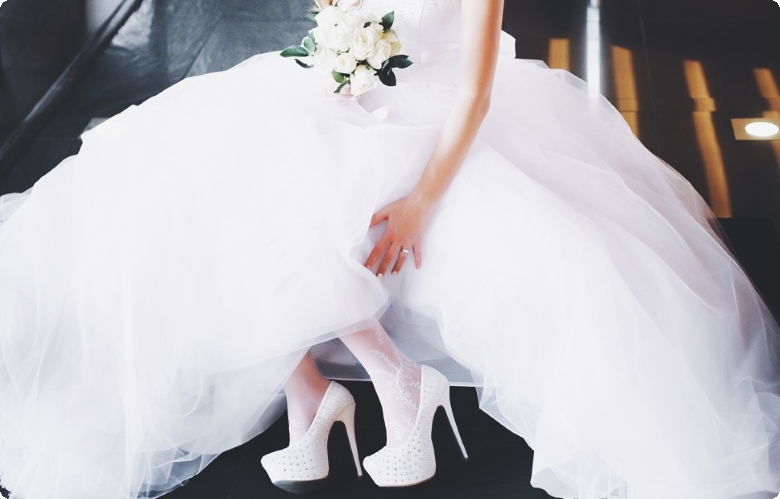 For those looking for comfortable shoes under the wedding dress, flat shoes and sneakers, which have been popular recently, are among the other alternatives you can wear. Just sayin': Converse shoes under the wedding dress are very popular recently. You can consider the option of sneakers under your wedding dress, which will allow you to take off your high heels and dance comfortably, especially later on the wedding day. However, you should not compromise your elegance while wearing comfortable shoes under your wedding dress. If you are thinking of wearing a comfortable sneaker, we recommend that you keep it as a memory in a few wedding photos or you can wear it later in the night when you get tired. However, if you say that you cannot give up both comfort and elegance on your wedding day; wearing ballet flats instead of sneakers may be a more logical solution for you.
How Can You Buy Your Bridal Shoes Cheaper?

When it comes to wedding preparations, you may have noticed that everything is more expensive than usual. For example, while a normal pair of slippers is more affordable, bridal slippers are much more expensive. (When you see the prices, we can hear you saying that bridal shoes should be cheaper, how can I buy these shoes). Likewise, there is quite a price difference between a normal underwear set and a bridal underwear set. The simplest way to find a cheap bridal shoe is not to buy a shoe sold under "bridal shoes". (You can use a stylish white shoe under your wedding dress.) In addition, in recent years, shoes in different colors instead of white are frequently preferred by brides.
Go to the Wedding Dress Fitting with Your Shoes
We wanted to tell you in case there may be readers among us who do not know this detail: The skirt length of your wedding dress is made according to the heel length of your bridal shoes. Therefore, it will be to your advantage to buy your bridal shoes before going to the rehearsals of your wedding dress. This can be an opportunity for you to try on the comfort of your bridal shoes while providing the right size for your wedding dress.